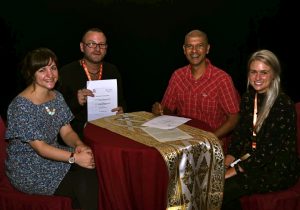 A five-year MoU between SEARRP and Wild Asia was signed on November 27th, 2017 and will commence on January 1st, 2018. This new partnership aims to draw on the strengths of both organisations in order to encourage scientific research with a focus on issues relating to small-holder production of palm oil and the livelihoods of rural and forest-dependent communities in Sabah.
The collaboration will be based primarily at Wild Asia's sites in Sabah and involve the communities with which they have built long-standing relationships – including at Beluran and on the Kinabantangan River. Working closely with these communities and Wild Asia, SEARRP aims to facilitate environmental and social research involving local and international scientists and teams of field staff from both Wild Asia and SEARRP.
This exciting new relationship for SEARRP will provide opportunities for scientists to work in under-studied landscapes and, we hope, for cutting edge research to better contribute to the livelihoods of local communities and the sustainability of smallholder agriculture. Through both organisation's strong links with the Roundtable on Sustainable Palm Oil (RSPO), lessons learned from the SEARRP-Wild Asia partnership will potentially be scalable across SE Asia and the wider tropics through the RSPO's smallholder certification programme, with which Wild Asia is closely involved, and SEARRP's SEnSOR Programme (www.sensorproject.net).